Peugeot first electric folding bike
Peugeot has been a leading brand of folding bikes, from the production of the first folding bicycle designed for the French army by Captain Henri GERARD in 1892, and with the iconic PEUGEOT folding bikes of the 1970s. eF01 is the first electrically-assisted folding bicycle from Peugeot. The model is the brand's latest addition to its range of electrically-assisted bikes that was launched in 2009 and currently consists over 10 models, catering for all purposes.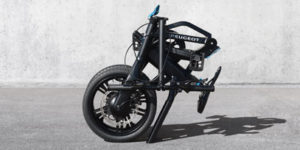 Peugeot designed the eF01 for customers looking for mobility solutions to complement their vehicle. Thanks to the Dockstation, the eF01 can be stored and recharged in the boot of the new PEUGEOT 5008 SUV or any other vehicle with a 12-volt outlet. The battery recharges within approximately two hours whilst driving and can also be plugged into a regular outlet.
Compact, powerful and reliable, the eF01 weighs 17 kg, can reach a speed of 20 km/h and has a lithium-ion battery for a range of up to 30 kilometres. Disc brakes on the 16-inch front and rear wheels ensure optimum performance.
Source: Peugeot