2020 Models of Gocycle
EBR has featured Gocycle many times and are pleased to see them going from strength to strength with the announcement of their new 2020 G3Carbon which features a high modulus carbon front frame and weighs just 34.2 lbs / 15.5kg.
Other features include:
375 Wh battery seamlessly routed inside a lightweight, carbon frame
PitstopWheels with small, lightweight yet powerful motor in the front wheel
Patented automotive-inspired Daytime Running Light, LED cockpit and electronic predictive shifting
Bespoke G3Carbon green, red and yellow editions are available in limited numbers to celebrate Gocycle's best-ever year in 2019
G3Carbon and bespoke color editions are available to order now, priced from $5,499 MSRP / £4499
The G3Carbon will sit alongside the all-rounder Gocycle GS and the fast-folding GX & GXi models to complete the brand's 2020 line-up.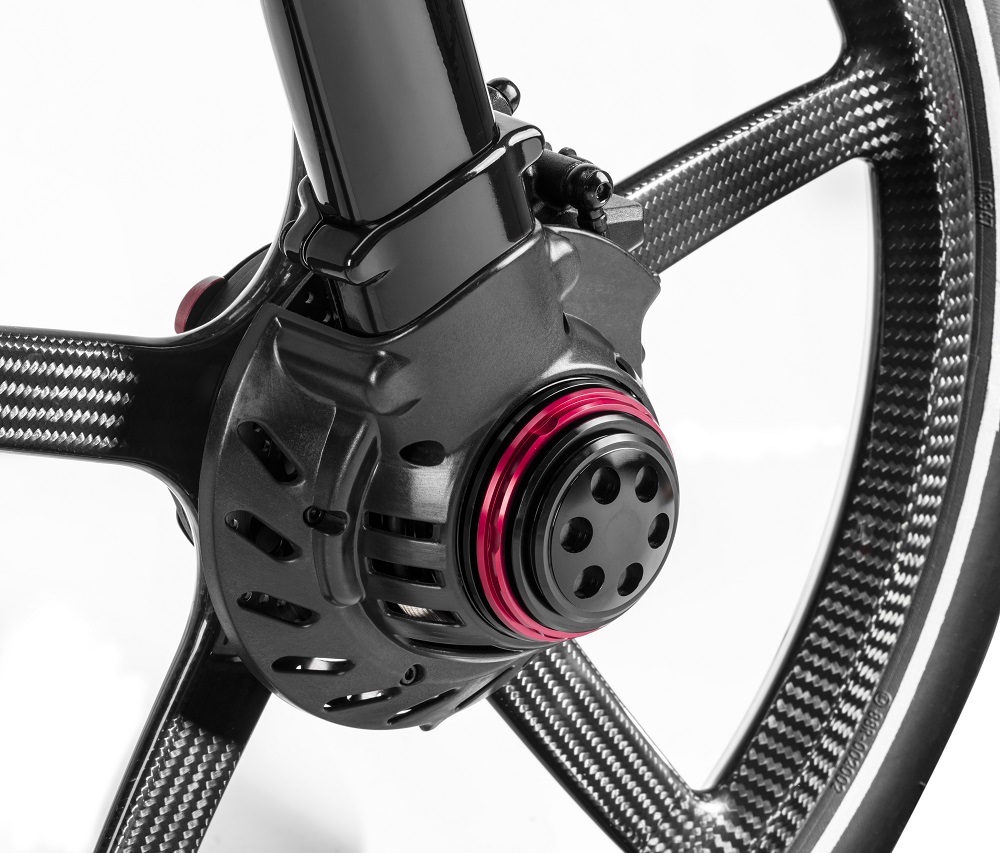 Source: Electricbikereport.com & GoCycle
UK designed electric folding bike
Special features
the Pitstopwheel: Gocycle patented quick-detach Pitstopwheels make folding down the Gocycle GS easy. The side mounted design not only looks great but makes it quick and easy to remove the wheels and make fixing a flat tire a no sweat deal.
the Cleandrive: The multispeed enclosed chain drive keeps all the oily parts away from your clothes. It comes in a range of great colours: Red, Blue, Pink, Light Blue and Black, to match a grey or white front frame.
Vgonomic™ design: Gocycle provides contact points in exactly the same place as a large-wheel bike – but with more adjustment to fit more riders. The Vgonomic™-designed seat-post and frame geometry, combined with height and reach adjustable handlebars, provides adaptable fitting with superior comfort levels for a wide range of body types.
seriously Lightweight: At only 16.5 kg (36.3 lbs) including kickstand and folding pedals, the Gocycle GS is one of the lightest electric bicycles on the planet!
the ShockLock™: Convenient and easy to use, the ShockLock™ is a cable lock that comes standard with every Gocycle GS so you can head to the coffee shop right out of the box.
the Kickstand: The Gocycle kickstand is made of durable and strong aluminium with dual legs to stand your Gocycle upright securely. Dual piston spring design and double bearing support give the kickstand a smooth and strong folding action. The kickstand is included with the Gocycle GS
the App: The Gocycle GS comes with the free GocycleConnect™ App that allows you to personalise your ride, adjust speed and power settings, and provides you with health stats like calories burned, power output, trip data and more…
the Front Pannier: Probably one of the most useful Gocycle accessories! Our bespoke front pannier is easy to attach and remove, extremely versatile – from carrying your work stuff to groceries, and looks great too!
Mudguards and Lights: German-made, high-quality front and rear lights and front and rear mudguards are available. The lights run off the main Gocycle battery pack and their quick fit design makes fitting them to your Gocycle GS very easy.
Lock holster: The Gocycle Lock Holster is a Sold Secure Silver rated lock for added security. It fits neatly and discreetly onto the side of the frame in a handy location for easy and fast locking.
the Rear Luggage Rack: The new for 2018 rear luggage rack is designed specifically to work with your Gocycle. It will fit your favourite modern pannier bag and is also quickly detachable so you can use it only when you need to!
Photo of Gocycle GS