Electric Trike from Hase Bikes
German based Hase Bikes has manufactured specialized since 1994. With the Kettwiesel Evo Steps model, they have introduced a full suspension e-bike with excellent stability due to the low center of gravity.
Shimano Steps motor
The e-motor provides assistance up to 16 mph (25 km/h) and harmonizes perfectly with your pedaling. With Di2 electronic shifting, you can change gears with the press of a button or let the system choose the best gear – automatically.
Full suspension for an ever-relaxing ride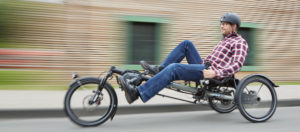 The independent suspension system with air shocks makes the KETTWIESEL EVO STEPS a comfortable, full-suspension trike. A sway bar like the ones used in automotive design preserves the well-known KETTWIESEL feeling for maximum fun on three wheels. Down cobblestone roads or over curbs, the KETTWIESEL EVO STEPS always keeps its cool.
Adjustable frame
All KETTWIESEL models have a quick-adjust frame that can be easily adjusted to riders of different heights without having to shorten or lengthen the chain. The length-adjustment markings on the front boom make it easy to remember length settings for switching between various riders.
Foldable
The folded trike has a maximum length of 3'2" (96 cm)
The new EVO frame is foldable – and the folding process is as easy as 1-2-3: just open the quick-release levers to release the seatback and fold the seat forward. Then open another quick-release behind the seat, pull up on the cord, and – presto! – the rear portion folds down and forward. The folded trike has a maximum length of 3'2" (96 cm) for easy stowing.
Source: Hase Bikes