Brompton Electric
The Brompton E-bike has 4 modes, ranging from no assistance (the bike rides smoothly without the battery) through to a high level of assistance, perfect if you want to arrive fresh to a meeting or are climbing a large hill.
The key features
Custom-developed 250W front hub motor giving an extremely high performance-to-weight output.
Bike still folds to the same size as a non-electric Brompton.To aid portability, the battery can be carried separately, integrating neatly into a shoulder bag.
Battery features intuitive user interface and USB charging port for mobile devices
All Brompton Electric bikes come with the standard battery bag (1.5L), however, there is an additional option to buy a commuter bag (20L), which can store your larger items, e.g. a laptop
Smooth ride thanks to the smart, integrated torque and cadence sensor
Wheel size 16″ (349mm)
Folded dimensions: 585mm high x 565mm long x 270mm wide (23″ x 22.2″ x 10.6″).
Handlebar type: M type (1015mm)
Rear frame: L type (mudguard)
Colours: Gloss black or Gloss white
Gears: 2-speed or 6-speed
Brompton bikes has been manufactured in London since 1975.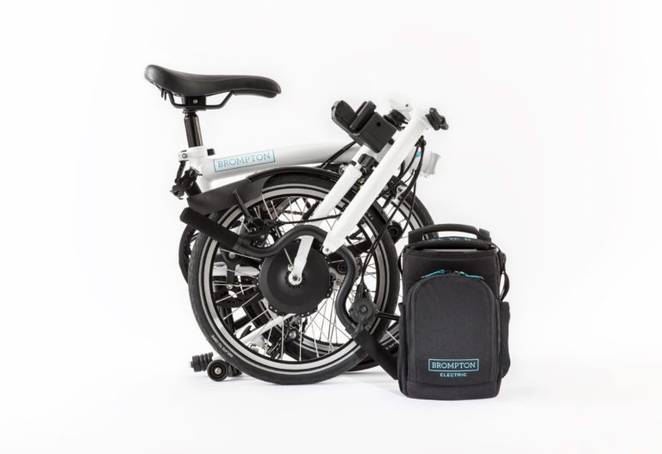 Source: Brompton
Test done by Electric Bike Report Jan 2020
Here we take a look at four options we have tested first hand, all of which have their own pros and cons which we detail.